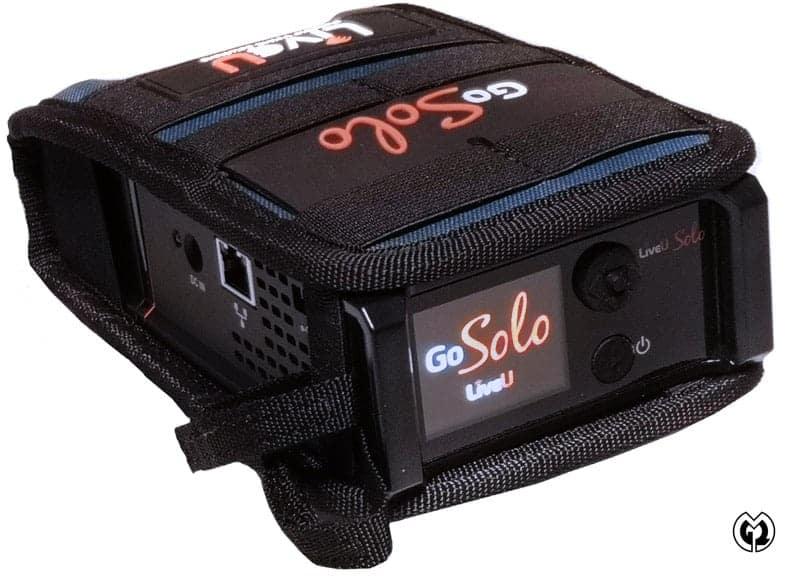 Der LiveU™ Solo+
Videolivestreaming für JEDEN und von ÜBERALL!
[booqable_card id="liveusolo-bonding-encoder"]
Damit streamen Sie über bis zu 6 Internet Verbindungen gleichzeitig!
1x Ethernet (Anschluss via CAT-Kabel
1x Wifi (z.B. via vorhandenem Router oder Smartphone-Hotspot)
2x interne Modems (Simkartenslot im Gerät)
2x externe Modems/Dongels E8372h von Huawei

Internet-Bonding via LRT-Cloud von LiveU
Der LRT-Cloud-Service von LiveU löst eines der ältersten Probleme beim Livestreaming:
nicht-stabile Datenverbindungen, zu geringe Bandbreite oder Verfügbarkeit von Internet an der Location.

Anstatt den gesamten Stream über nur eine Internetleitung zu senden wird der Stream in einzelne Pakete aufgeteilt und über alle bestehenden Internetanbindungen paketweise übertragen.
In der LiveU-Cloud werden alle hereinkommende Pakete gesammelt und zu einem vollständigen Stream zusammengebaut. Kommen einzelne Pakete – z.B. wegen eines Ausfalls einer Internetverbindung nicht in der Cloud an, so wird anhand eine Prüfsumme das Fehlende Paket rekonstruiert.

Dieser Bonding-Service benötigt aber Zeit. Im Low-Delaymode zwischen 5 und 10 Sekunden. Im Standard-Delaymode um die 15 Sekunden. Dazu kommen noch die Verzögerungen beim Encodieren, die Weiterleitung an Facebook, Youtube, Vimeo, etc., die Zeit für das dortige Encodieren und Senden. In Summe kann man bei einem FB-Live oder Youtube Livestream von einem Videodelay von 20 bis 50 Sekunden ausgehen.
Bei uns zu mieten inkl. 3 LTE Verträgen. Auch dabei, die LiveU™ Cloud für die Dauer der Nutzung auf Basis von LRT™ (LiveU™ Reliable Transport).
Die gesamte Einrichtung des Encoders erfolgt online über https://solo.liveu.tv/login
Infos zum Setup des LiveUsolo
Unterstützte Videoauflösungen und Bildraten:
– 1080p (24/25/30/50/60 fps)
– 1080i (50/60 fps)
– 720p (24/25/30/50/60 fps)
– PAL/NTSC
Anschlussmöglichkeiten via:
– 1x 3G/HD/SD-SDI
– 1x HDMI
– 1x Ethernet
– 2x USB
---
Rent a LiveU Solo+ here in Vienna / Austria at MGL Videoservices! Let us help you, to bring your videosignal to your cdn.
Book now! Starting at 190,- plus Austrian tax! 3 LTE contracted simcards. Contact us, even ON WEEKENDS +43 699 133 88 123.